Do you have these various designs of kurtis in your wardrobe?
In the Indian market, various designs of kurtis are sold like hot-cakes. Every girl, whether she is a student, a professional worker, or a house-maker is fond of various designs of kurtis. This comfortable yet trendy outfit is wonderful to wear with comfort. Designs and new kurti patterns are in a constant change for a few years now. We see various new styles and colours coming in the market on every day.
Girls' love for various designs of kurtis is crazy!
Girls always go ga-ga over new fashion related stuff. They always have oodles of attire in their ward-robe still they crave for more. This is just a habit of women and it's super crazy. The phrase "women will be women" goes pretty well here. Here, we are talking about the latest kurti patterns that you must need to know about. These sorts of kurtis are simple yet stylish and can be worn on any occasion.
Slit Kurti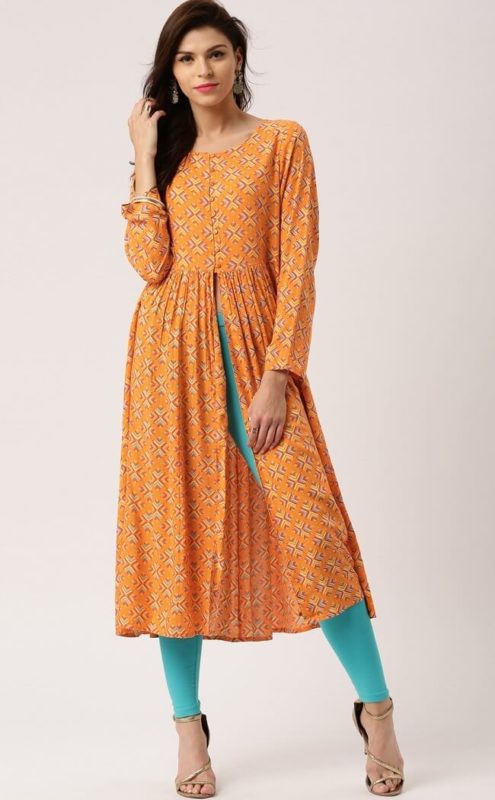 These Kurtis have slits on the front or in the sides and it gives a glamorous touch to this outfit. This is a new attire to wear at a wedding or a small party. You can choose a little glittery slit kurti and pair it with a long skirt or plazzo and you are good to go. Chandbali earrings and Punjabi juttis with this kurti are surely going to make you unique and attractive.
Dhoti Style Kurti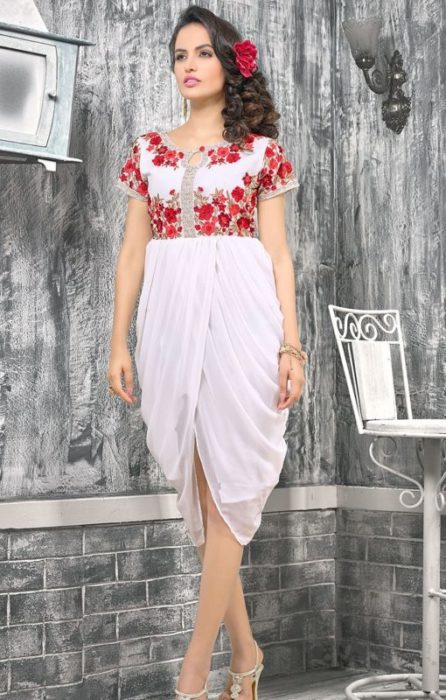 In women fashion world, Dhoti style pattern is reviving. Dhoti style pants, Dhoti style sarees, Dhoti style skirts, and Dhoti style kurtis have sprung up in the market. The beauty of Dhoti Style pattern consists in the drapes that it has from the bodice part. This various designs of kurtis are usually available in Chiffon, Silk and Georgette fabric. Pair this with cigarette paint and peep-toes footwear and you will surely ablaze your look.
Cold Shoulder Kurti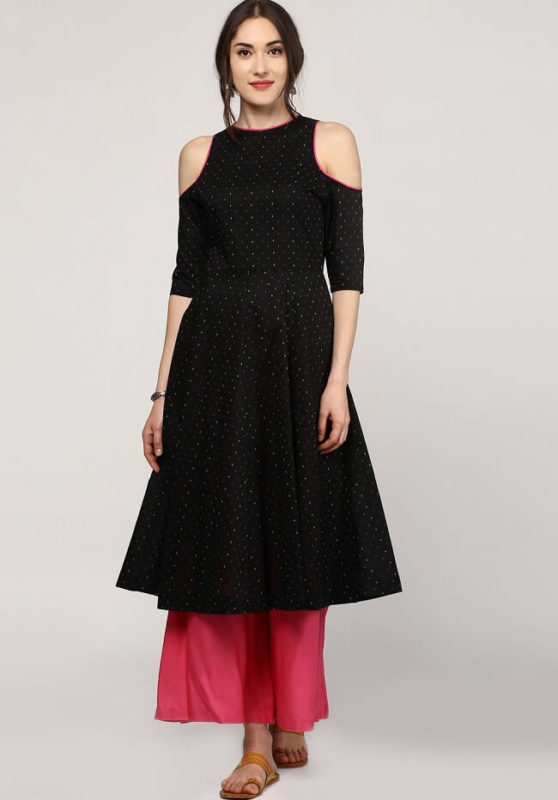 I am sure, you have seen many of your friends and colleagues in this garb. This is a new style for girls to look chic. If you are bored from the daily same-patterns outfit, it is a new idea to add some spice to your life. These can be worn casually, in kitty parties, on one-day outings. Give it a hot look with stud earrings and a long pendant necklace. Your new look is ready.
Indo Western Style Kurti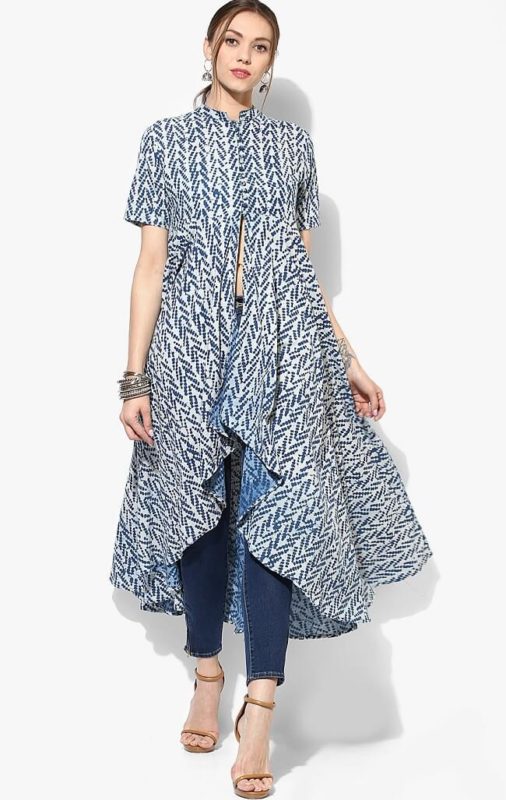 As the name sounds, this kurti has an amalgamation of Indian and western look. The length of the outfit separates it from other designer kurtis. It has knee-length from the front side and it is long from the back. The sleaves style and neckline make it elegant and trendy at the same time. Put a scarf on the neck, dangle long earring, round bindi on the forehead, and high bun hairstyle will make you super cool while giving an Indian traditional touch.
Shirt Style Kurti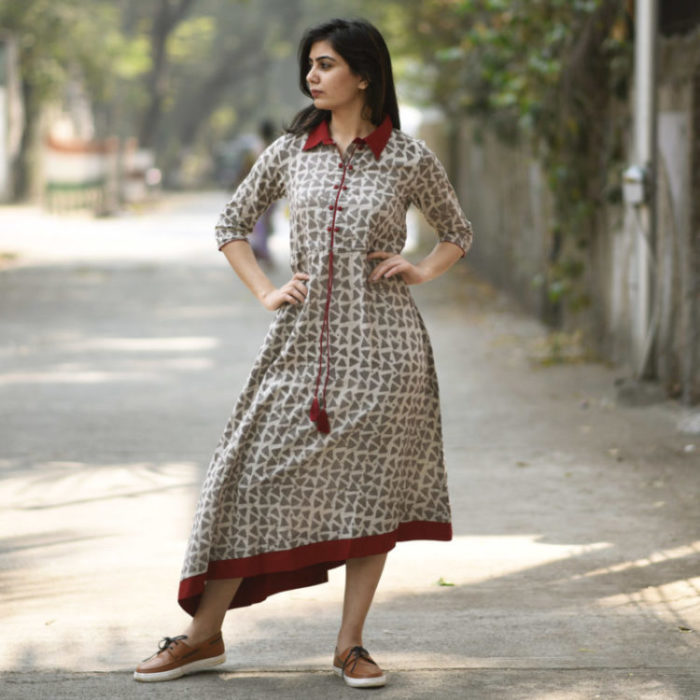 This is the best attire to wear at the beginning of the week to office. The designer of this kurti has combined Indian traditional style and western pattern in one single dress. Before purchasing this kurti, the fabric should be checked properly that it is skin friendly. It gives the best look with choker necklace and kolhapuris.
Gown Style Kurti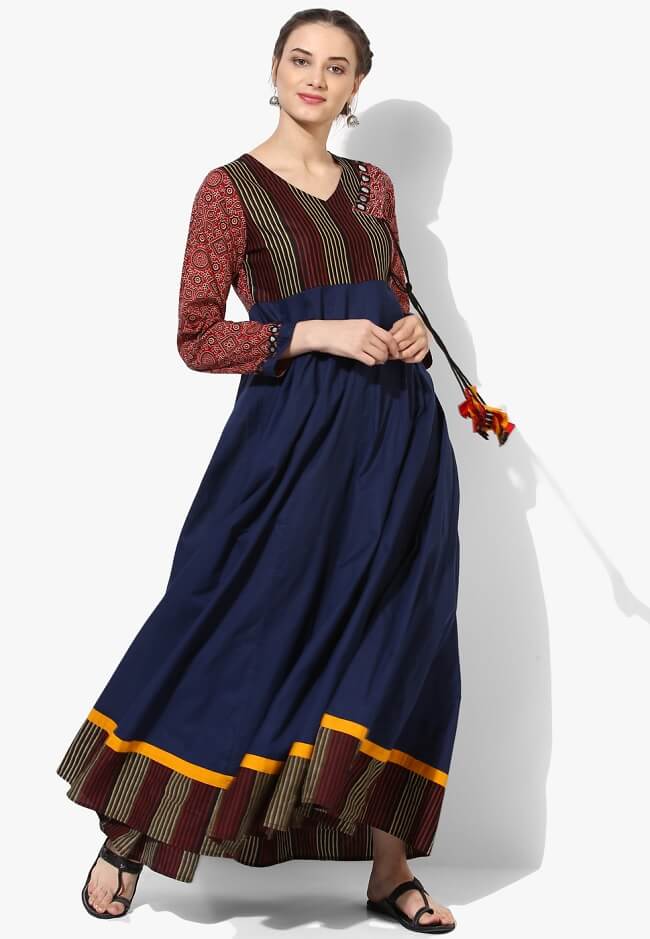 These floor length kurtis are in the top list of Bollywood divas for award functions and inaugration ceremonies. The royal and rich look of Gown style kurti has a different type of elegance. It is the best attire for wedding, reception, and evening parties. Keep in mind, never take scraf or stole with these kurtis.
High-low Style  Kurti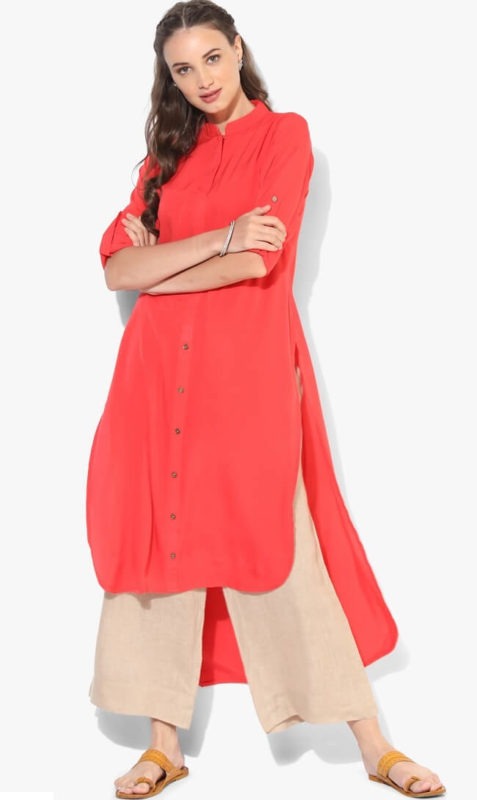 High-low kurti is a new style kurti liked by mainly college girls and office going ladies. In these various designs of kurtis, the front hem is shorter than the back. The high-low kurti does not only give you a different look but also shows your fondness for the trending clothes.
Asymmetric Kurti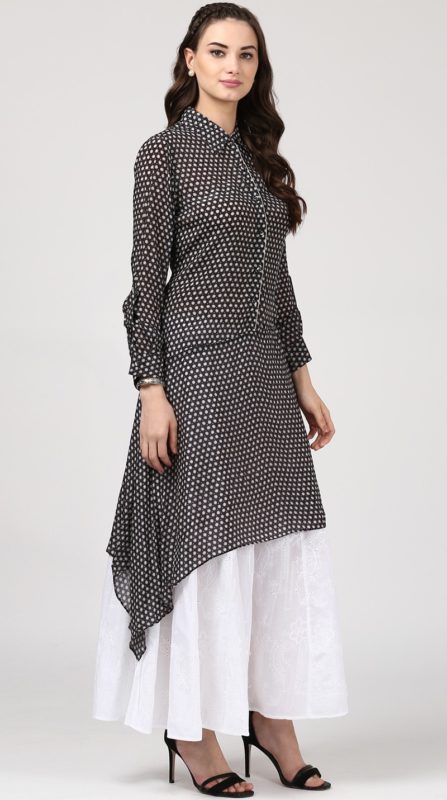 Usually, these kurtis are made up of thin cloth like crepe and georgette. As the name suggests, these kurtis have asymmetric hemline. Very tall girls should avoid wearing them as it gives an appearance of a taller height.
Kaftan Kurti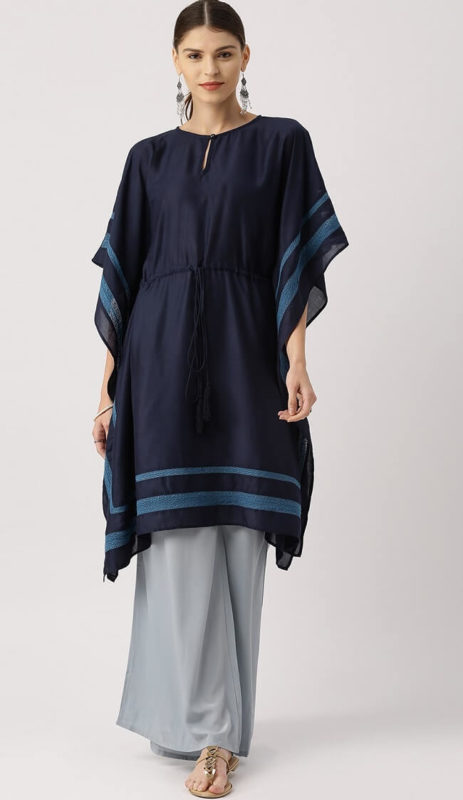 These kurtis are best for the girls who always want to try something new and want their dressing sense different from others. These are generally loose in size and hardly have any fitting. They are long and have the same pattern at the bottom and at the sleeves. Palazzos are best to pair up with these kurtis. Patiala, Dhoti, and skirts should be avoided with kaftan kurtis.
Colour-Blocked Kurti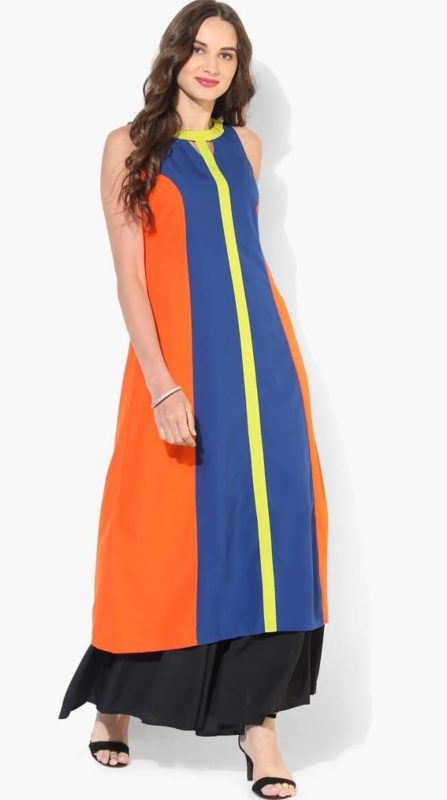 Colour Blocked Kurti is truly loved by fashionistas who are gutsy enough to show their unique side. These kurti are considered a bit controversial as it has different blocks of different colours of fabrics. It is advised that always pair up such kurtis with black palazzos. You need to make sure that the colour combination you are using matches with one another.

Passionate Writer / Blogger
at
Aaj Ki Naari
Hello, welcome to aajkinaari! I am Reena Rawal, a passionate blogger, and writer by heart from New Delhi, India.
While creating and managing this platform, I try to empower the existence of women in this changing era. Let's acknowledge women's endeavors in various areas and celebrate womanhood.

Latest posts by Reena Rawal (see all)
Comments
comments