These Flower Jewellery will Add Grace to Your Beauty
Flowers are an integral part of Indian culture. They have been symbolized in various ways, their varied pattern and colors inspire jewelers and designers to incorporate floral beauty into designs. Currently, flower jewellery has been setting a trend on special occasions. From wedding engagements to haldi ceremony to baby-showers, it is getting popular everywhere.

The Symbolism of Flora in India
Flowers have a special place in the Hindu mythology. Lord Vishnu is depicted to be standing in a lotus flower and also various goddesses are associated with it. Goddesses are depicted to adorn flowers in the pictures from old paintings. Apart from their aesthetic uses, flowers have medicinal and various other uses as well. Sometimes, flowers are used as food either to enhance the flavor or these can be eaten directly. Some are used as spices while others are used for medicines.
Usually, flowers are used to express feelings. They are used in the form of a bouquet, ornamental and decorative purposes. But in today's article, we're going to discuss the floral inspiration in jewelry and ornaments.
Floral jewellery designs are becoming a sensation throughout the world. Vogue in Milan and USA in their fashion guide have made floral as their theme. Vogue, one of the leading fashion icons is promoting floral pattern in its various fashion accessories like chokers, rings, belts, shoes, handbags etc. this fall.
During this wedding season in India, we have witnessed many weddings of our favorite stars like the current newlywed couples – Virat and Anushka, Bharti Singh and Harsh, Neil Nitin and Rukmini Sahay, Yuvraj Singh and Hazel Keech. They were some famous couples, who set some amazing wedding goals for Indian couples.
This is not the first time that we have gone ga-ga over our favorite couples, but, every time a wedding happens in Bollywood, the fans create havoc on the internet to hunt for their latest pictures. When wedding pictures of Aishwarya Rai, Vidya Balan, Esha Deol came out, the infusion of floral jewellery theme was common in all of them.  May it be their Mehandi, wedding or reception, the beautiful brides wore floral jewelry in their functions. Brides mostly sported jasmine, orchids, carnations, and rose for their flower jewelry patterns. As these flowers are aromatic and vibrant, they were looking amazing with their outfits.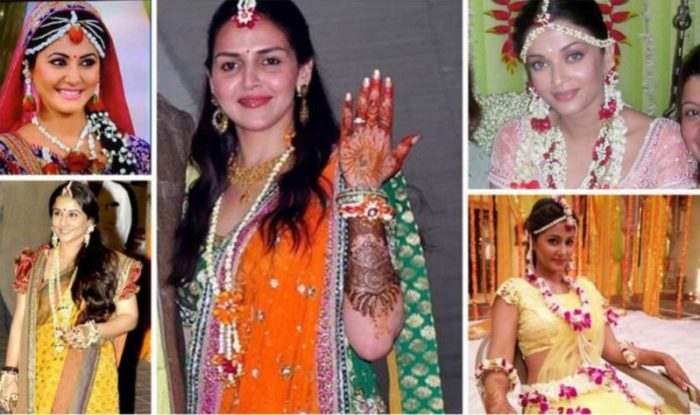 Hence, flower jewellery for brides and soon-to-be moms is going viral. Many beautiful and chic actresses like Diana Haydon, Soha Ali Khan, Kareena Kapoor have done amazing photo shoots and proved that pregnancy is beautiful.  Such beautiful floral jewellery designs bestow elegance and grace on to-be-moms and to-be wives.
The flower jewellery can be classified as :
Fresh Flower Jewellery
Dry Flower Jewellery
Flower Inspired Jewellery
Fresh Flower Jewellery
This kind of jewelry is currently the ongoing trend. Though they last only for a single day, they add extra color and vibrancy to glittery occasions. They remain aromatic for the entire day. The fresh flower jewelry has been in use from the Vedic times. Portraits of Shakuntala and other paintings show women wearing fresh floral jewellery adorning their heads, arms in bracelets and armbands. This has been a tradition to wear a flower jewellery since ages.
For a casual fresh floral look, we see celebrities often going with a "Gajra ", the string of jasmine flowers used to wrap around the bun. This look has often spotted on Rekha, Vidhya Balan, Shridevi, Bipasha Basu, Deepika Padukone and Hema Malini. Gajra often goes along with traditional outfits as it is considered one of the sola shringars which not only gives calming fragrance but enhances the beauty too.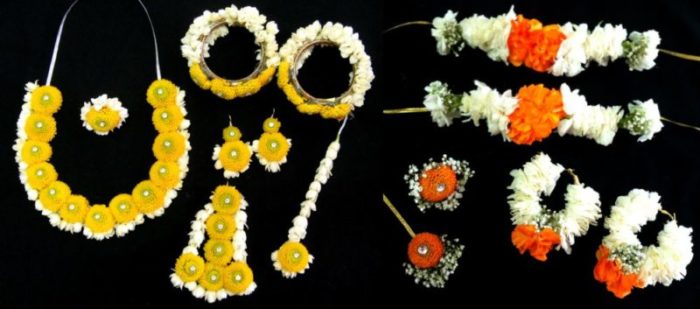 Dry Flower Jewellery
This type of jewellery is made of dried and preserved flowers or their parts usually tendrils, buds, stems and leaves. These dried flowers and their parts are incorporated into various accessories like rings, pendants, bracelets, and earrings. This style not only gives you a Boho look but also adds a touch of girliness.
Dry flower jewellery designs are often sported with skirts, jackets, and denim. This is an upcoming trend and it looks perfectly dazzling with any outfit you wear. Dry floral jewelry gives an antique effect since it was inspired by embers which are a naturally embedded piece and contains leaves, flowers, stems etc. This type of jewelry can be easily made at home. There are many DIY videos on YouTube that can help you with steps by steps.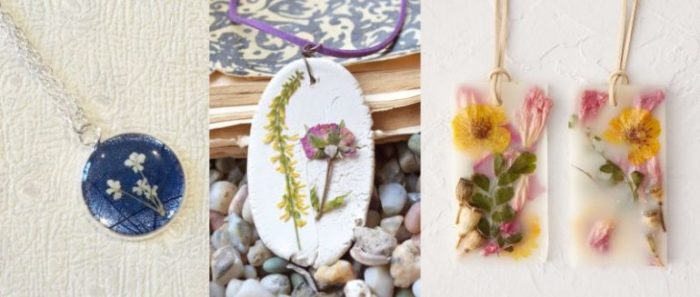 Flower Inspired Jewellery
The best thing about flowers is that they have numerous patterns and colors. A flower is the most attractive thing nature has ever made. This inspires designers to include floral patterns in acrylic, gold, silver and platinum ornaments. Since flowers look insanely beautiful with wedding gowns, lehangas, and skirts, these are often considered the hero of wedding jewellery.
The most trendy wedding rings this season was a vine tendril. It is made of the circular part of a rose flower, and the main bud carried the stone elegantly. Floral jewellery designs are a big-fit not only for big occasions but it can also show your unique side of the daily casual look. The embroidered choker is a famous trend. Such chokers with floral patterns give a superb look with embroidered floral jackets, shirts, skirts, bags, handbags, and shoes. The floral parts embedded jewelry like necklace, rings, earrings, bracelets were a trend in the 70's.

So ladies, let's make sure to have some flower jewellery in your boxes as it goes well along with anything and everything!
Here is the link to get some amazing and unique floral jewellery for glittery occasions

I pen down my thoughts from the heart while struggling with the mind. I can be described as a bookworm, a movie maniac, and a big-time food lover.
I think that the world not only runs by logic but with emotions as well. Give me a pen, a book and food - I will never disturb you again!

Latest posts by Riya Dennis (see all)
Comments
comments